Gerald Gardner, a British a writer and occultist, is considered the father of modern witchcraft.  Gardner founded this contemporary religion in England during the first half of the 20th century, leading to the establishment of Wicca as we know it today.  Gardnerian Wicca is an initiatory mystery tradition, meaning that as Gardnerians we can trace our lineage directly back to Gardner and his high priestesses, and that membership is gained only through initiation.
Wicca is a modern religion which focuses on a personal relationship with the gods and a connection with Nature and her cycles.
Famous Gardnerian Figures
Gerald Gardner: (1884 – 1964)  Gardner was born into an upper-middle-class family in Lancashire.  Due to medical issues little Gerald spent his life abroad living with a nanny whilst his family lived in England.  He lived in many places, including Madeira, Ceylon, and Malaya, eventually retiring as an older man in his native England.  During his life he had no formal education and was entirely self-taught.  He was an amateur archeologist and anthropologist. Through his experience in many of the countries he lived in he developed a deep interest in indiginous religion, folk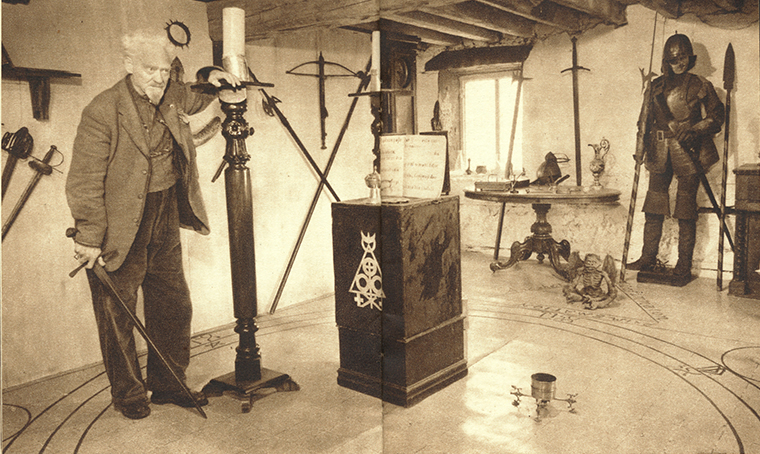 practices, and the occult, collecting many artefacts along the way.  It was during his retirement in England that he came across the New Forest coven, into which he was initiated in 1939.  He spent the rest of his life dedicated to the Craft, eventually writing books after the repeal of the Witchcraft Act in 1951, giving interviews, writing articles, and opening the Museum of Witchcraft on the Isle of Man.  Gardner is considered the Father of Modern Witchcraft.  In 1964, on the way home from Lebanon aboard a ship he died of a heart attack and was buried at the ship's next port, Tunisia.  His funeral was attended by only the ship's captain.
Doreen Valiente: (1922 – 1999) One of Gardner's most famous high priestesses, she went on to become a prolific writer and poet and is today considered the Mother of Modern Witchcraft.  Her influence in our tradition is vast, as she wrote much of the poetry and ritual used today.  Born in Surrey to a middle class family, Valiente went on to work as a translator at the famous Bletchley Park during WWII.  Having practiced some form of magic from childhood she went on to practice ceremonial magic after the war.  She learned of Wicca's existence in an Illustrated magazine article and contacted Gardner, leading to her eventual initiation.  She went on to revise the Book of Shadows and became a very prominent Wiccan advocate and researcher.
Eleanor "Ray" Bone: (1910-2001)  Bone was first initiated into the Cumbrian Tradition in 1941 and later initiated by Gardner and became one of his high priestesses.  While she may be among the least prominent names in the Wiccan community (due to not being an author and having led a relatively quiet life), her line of initiation is actually one of the most prolific lines of Gardnerian initiatory decedency in Europe, similar to the Long Island Line in North America.  She is also known for saving and restoring the grave of Gerald Gardner in Tunisia after she traveled there and discovered that the original cemetery had been turned into a park.  She started fund-raising with witches across England to pay for Gardner's remains to be relocated to a new cemetery.  Thanks to her efforts Gardner's grave is something we can still visit today.  In 2007 a new headstone was funded and placed there in his honor.
Lois Bourne: (1928 – 2017)  Born in Hertfordshire, Lois's mother was told by a Romany woman that she would "have the sight and the power".  Growing up as a child Lois reported being able to see ghosts and spirits.  As a nursing student she knew when patients were about to die.  She went on to become a student of the Maharishi and delved into Spiritualism.  She was initiated by Gerald Gardner and became one of his high priestesses, eventually becoming high priestess of the Bricket Wood Coven.  She maintained a very happy and conventional life, marrying and having two children.  She wrote many books on the Craft, including her autobiography Witch Amongst Us.
Patricia Crowther:  (1927 – current) Crowther is considered another "early mother" of modern Witchcraft.  Born in Sheffield, England, she exhibited psychic ability at a young age, with fortune tellers foretelling her eventual involvement with witchcraft.  Patricia was an accomplished actress and singer and often toured the country.  While on tour another fortune teller predicted how she would meet her husband-to-be, the well-known stage musician and ventriloquist Arnold Crowther.  Arnold was a close personal friend of Gerald Gardner, eventually introducing Patricia to him, which eventually led to her initiation.  After she was initiated Patricia performed her husband's initiation ceremony.  Today she is the last remaining priestesses alive who was actually initiated by Gerald Gardner himself.
Monique Wilson: (1923 – 1982) Also known as Lady Olwen, she was one of the original high priestesses of Gardner.   Best known for initiating Raymond Buckland, she was a life-long friend of Gardner, having met him as a child growing up in Haiphong, North Vietnam, and came to call him "Uncle Gerald".  Monique's parents were French, and her father was a French Naval Officer stationed in the local seaport.  She witnessed her father killed shortly after the outbreak of WWII.  Her mother and herself took refuge in Hong Kong until the end of the war, where Monique met her future husband, an RAF Commander from Scotland.  After marrying they settled in Perth, Scotland.  Monique, through a stroke of fate, reconnected with Gardner after reading his book Witchcraft Today.  She reached out to the author not realizing it was the same Uncle Gerald she had known growing up in Vietnam.  Their friendship rekindled, Monique and her husband were eventually initiated into Gardner's coven.  She became a spokeswoman for the Craft and gained publicity and the title "Queen of the Witches".  Wilson's most famous initiates were Rosemary and Raymond Buckland, who would go on to form the Long Island line of Gardnerian descendancy. 

Raymond Buckland: (1934 – 2017) Buckland was an initiate of Monique Wilson and is a significant figure in Wiccan coming to America. He and his wife, Rosemary, both originally from England, emigrated to Long Island, NY in 1962.  Though raised Anglican, Buckland was influenced by a Spiritualist uncle in his youth, leading him to have a deep interest in the occult for the rest of his life. While living in the US he began reading books such as The Witch-Cult in Western Europe by Margaret Murry, and Witchcraft Today by Gerald Gardner.  This led to Buckland establishing a friendship via correspondence with Gardner, who was now living on the Isle and Man and running the Witchcraft Museum.  Buckland and his wife eventually travelled to Scotland and were initiated by Lady Olwen's coven (with Gerald Gardner being present) and they went back to the United States to form the first Gardnerian coven at their home in Long Island, thereby creating the Long Island Line we know today.  The Bucklands eventually divorced and dissolved their original coven and Raymond eventually formed Seax-Wicca, an Anglo-Saxon based tradition which worked through a correspondence course.  He was a prolific author, founded the First Museum of Witchcraft and Magick, and was even a stand-up comedian later in life.